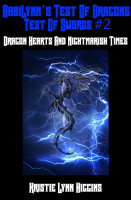 AabiLynn's Test of Dragon
Test of Swords #2
Dragon Hearts And
Nightmarish Times [TOD2]
The sequel to AabiLynn's Dragon Rite Series.
Select your bookstore below the synopsis and click on the link to read the story.
Synopsis:
In the second story of the series, Cara and her hatchling must deal with a surprising secret that could break the very bonds that have saved them over and over, and they must do this while dealing with a giant of a problem.
Amazon.com-TOD2
Amazon.co.uk-TOD2
Amazon.ca-TOD2
Amazon.com.au-TOD2
Apple Books-TOD2
B&N-TOD2
Google Play-TOD2
Kobo.com /Walmart Ebooks-TOD2
Scribd.com - TOD2
Smashwords-TOD2
.

Indy published books, novels, novellas, and short stories. Indy published ebooks. All novels and short stories are available on Amazon Kindle, Apple iBook, Apple iTunes Store, Barnes and Noble Nook, Google Play, Google Store, Kobo.com, Scribd.com, Smashwords.com, and other stores. Check out my free Science Fiction ebooks, free Horror ebooks, free Fantasy ebooks, and free action adventure ebooks.